Rates and Availability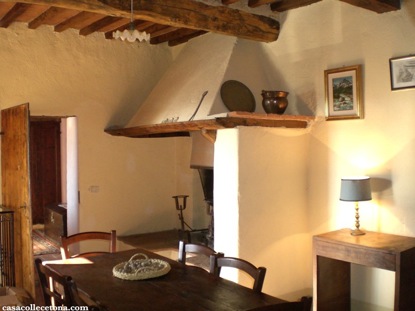 The Casa Colle Cetona can accommodate up to 6 guests in its 3 bedrooms and is available as follows:
Period
Minimum stay
Rate in Euro*
Low season: all periods not specified below as medium, high, or holiday seasons
3-day weekend

3-day weekend, Fri-Sun = Euro 200
1 week, Sat-Sat = Euro 350
1 month = Euro 850

Medium season:
3-day weekend

3-day weekend, Fri-Sun = Euro 300
1 week, Sat-Sat = Euro 450
1 month = Euro 1000

Holiday seasons:

two-week Christmas-New Year's period
Easter weekend
25th April long weekend
1st May long weekend
All Saints weekend, end-October

One week during Christmas period
4-day weekends during other holiday periods

Christmas-New Year's season = Euro 900 per week
Eastertime, 4-day period = Euro 350
1 May holiday, 4-day period = Euro 350

High season:
One week

1 week, Sat-Sat = Euro 600
1 month = Euro 1500
*1. Cost of utilities will be borne by guests; heating/cooking gas charged at Euro 6 per cubic metre.
2. Final cleaning charge = Euro 50
Upon arrival we request that guests provide a security deposit of Euro 200; this sum will be returned at the end of your stay, net of the utility charges, cost of final cleaning, and cost of any damaged items.
Terms and conditions
Arrival and departure
3- or 4-day weekend rentals: arrival day, noon - departure day, 16.00
1 week rentals: Saturday, 16.00 - Saturday, 11.00
month-long rental: time of arrival and departure to be agreed
House linen
Sheets, bathroom towels and kitchen towels are provided for stays of 3-days and 1-2 weeks; guests staying for longer than 2 weeks are requested to provide their own linens
Book your stay at Casa Colle Cetona
Contact us to confirm the availability of the house for the period you require:
e-mail us at: info@casacollecetona.com; or
complete the Booking Enquiries form at the bottom of the page.
Payment of rental deposit and balance and of security deposit
Once availability of Casa Colle Cetona has been confirmed, guests are requested to pay a deposit of 30% within 2 days to hold the booking; for short-term (up to one month) stays, balance due upon arrival along with Euro 200 security deposit.
Method of payment
Kindly provide us your deposit by credit card through

Booking enquiries
We will respond to you by e-mail as soon as possible.
Casa Colle Cetona is a partner of

Holiday Rentals